[text_area page_id="4541″ column="12″ margintop="20″ marginbottom="20″]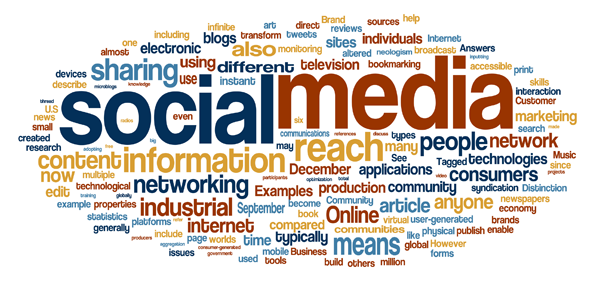 In today's digital age, it's crucial to have a solid social media marketing plan. We understand the importance of establishing an online presence. At Hoosier Home and Garden, we provide social media marketing consulting and solutions for the Indianapolis area.
While there are a plethora of options out there, we'll focus on the big three of social media: Facebook, Google+ and Twitter.
Read on below to discover why social media marketing should be a part of every companies' business plan.
Facebook

It's no secret that Facebook is the most widely used social media platform out there today. With over 1 billion users (that's Billion…with a b), Facebook doesn't look like it's going to slow down any time soon. Facebook is a great way to engage with potential customers and should be at the forefront of your marketing strategy. We could write a novel about the benefits Facebook bring, but in the essence of time, we'll move along.
Google+

The most intriguing and currently second ranked social media platform in terms of popularity is Google+. For whatever reason, Google+ has been the most underutilized social media platform out there. However, now is the time to embrace Google+ and we'll explain why below.
Below are just some of the benefits of Google+.
Boost Search Results

Authoritative Google+ accounts rank higher in organic search rankings and as a result, get an increased exposure for your brand. Check out what happens when you type, "Hoosier Home and Garden" into Google search. If your Google+ profile is set up correctly, a link to your page will appear in search results with information about your company, as well as recent posts.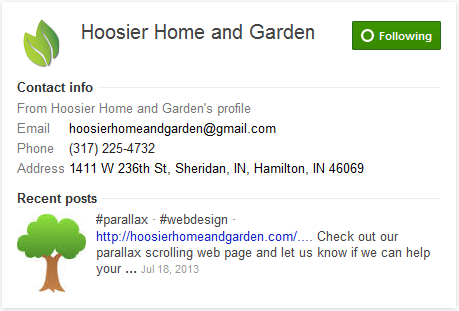 Google Hangouts
Arguably one of the most powerful features of Google+ is Google Hangouts. This feature allows you to have webinars with clients, interview prospective employees, and stream video content to potential customers.
Google Integration
Google also owns YouTube, so whenever you post a video to Google+, it automatically gets added to your YouTube channel. Pretty cool, right?
Twitter

Twitter has risen out of relative obscurity into a mainstream powerhouse. It recently slipped to the third most used social media platform, but its power is still undeniable. The whole idea of the #hashtag started with twitter and has since spread to Facebook and Google+. The significance of the hashtag is twofold: It allows consumers and marketers alike to gauge the popularity of an item, event, keyword, etc and quantify the relevance of trending topics. Twitter is also branching into the video realm with apps like Vine and Twitvid. Oh, and it has over 500 million users.
Want to take your business to the next level? Email us for more information.
[/text_area]